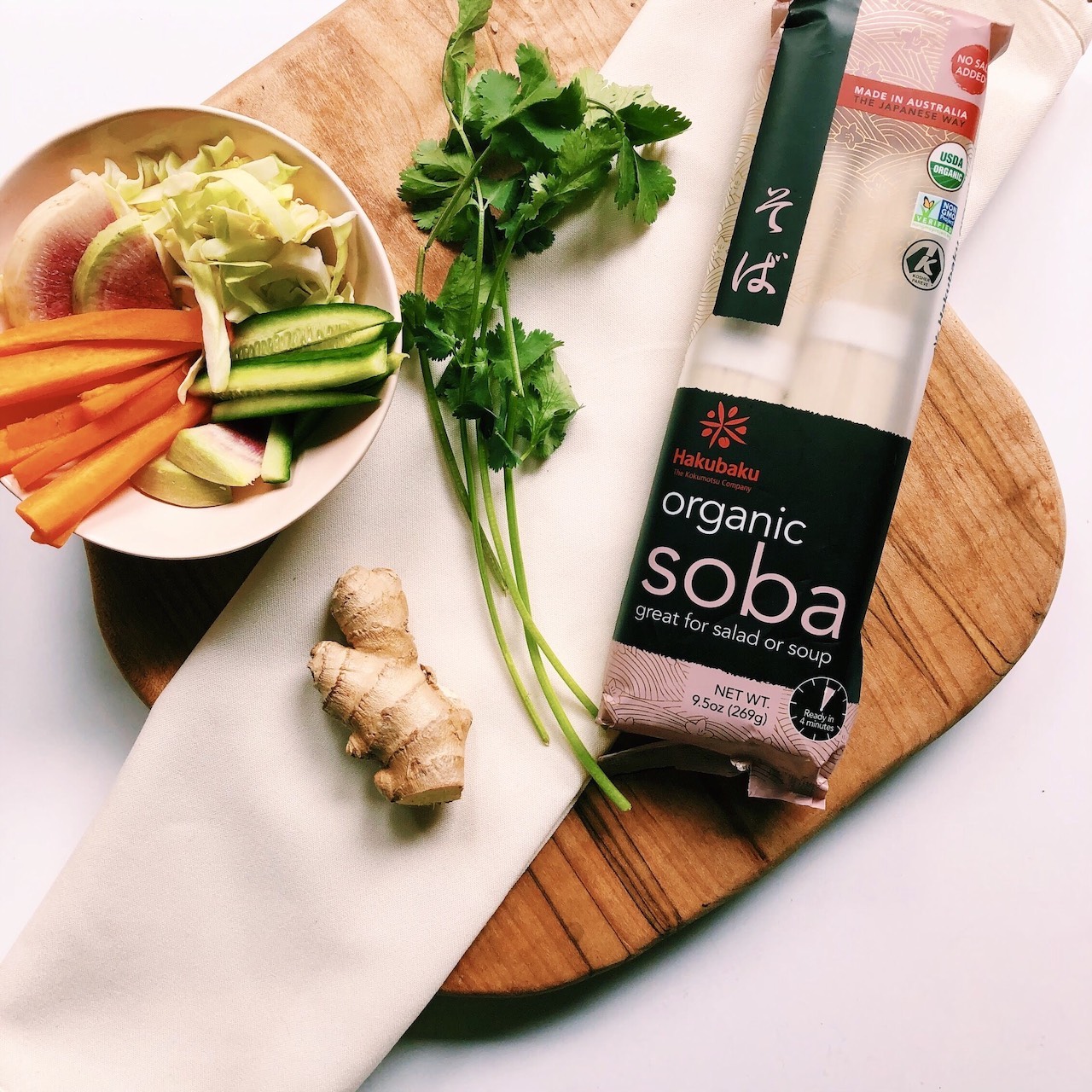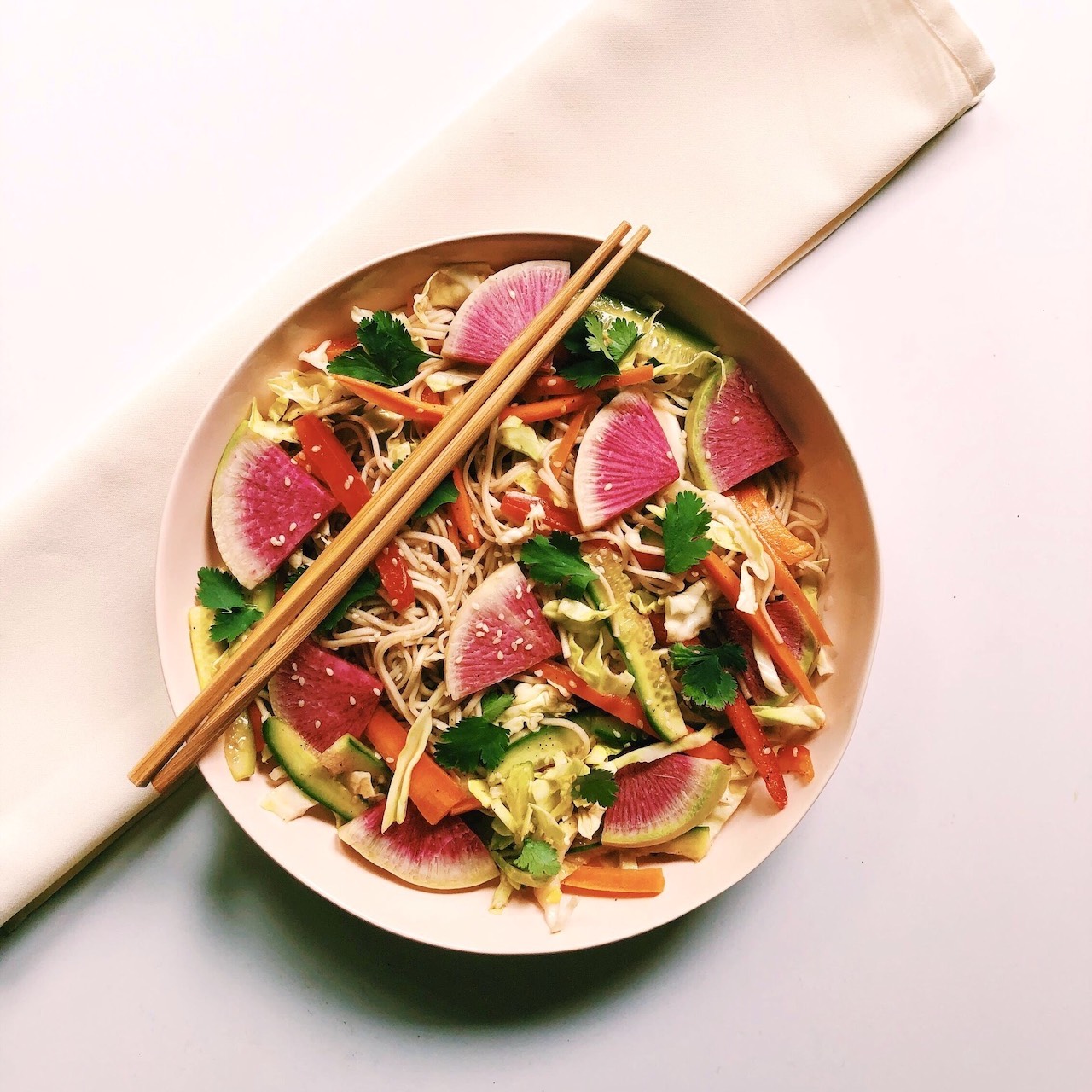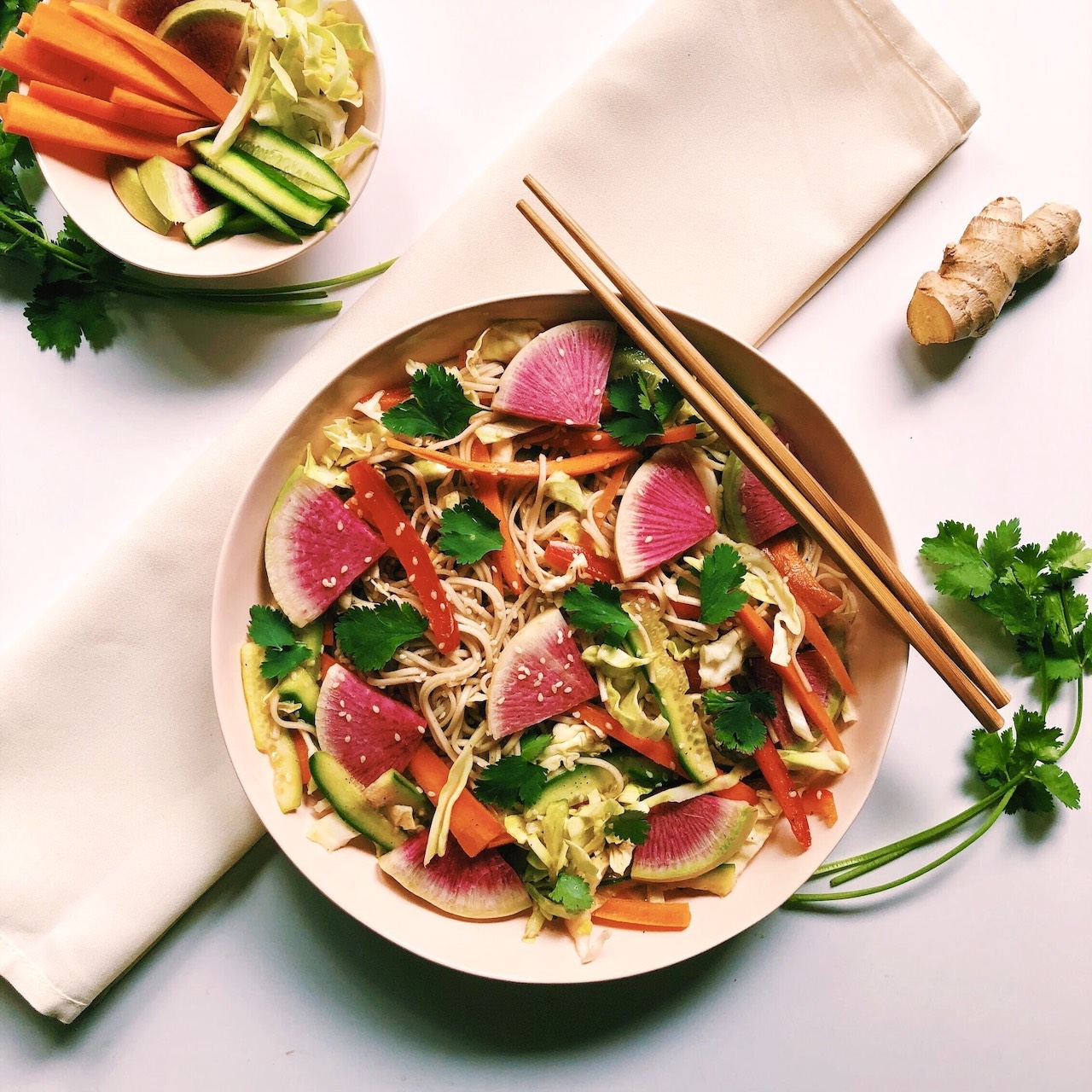 When the sun is hot 🔥and the days are long. This chilled soba そば salad サラダ might just be your new best friend this summer. The cool thing about this dish is that it requires minimal stovetop time. Because truthfully, do you really want to be standing over a hot burner? Or turning on the oven, slowly letting that heat meander through your home? My guess is no. Just a brisk five minute boil and you'll be ready to go! This recipe also includes a light sesame ginger dressing that's low fodmap, vegan, and gluten free friendly. What I love about this salad is that it's light, crunchy, and refreshing for those summer days/nights where cold food is on your mind.

See my website for more photos!

Salad Ingredients
1 bundle of organic soba そば noodles
1/2 of a small head of cabbage (green or purple works), chopped into thin strips
1 medium persian cucumber, thinly sliced
1 medium carrot, thinly sliced
1/2 red bell pepper, thinly sliced
cilantro
a smidge of sea salt & white pepper (can sub for black pepper)
✽ Please note that not all soba そば noodles are created equal. Check the ingredients label to ensure your soba is 100% buckwheat if you're gluten sensitive.

Optional Add-Ins
watermelon radish (gives it a great crunch)
sesame seeds (optional but necessary in my opinion)
hemp seeds

Dressing Ingredients
2 tsp sesame oil (regular or toasted)
1 tbsp coconut aminos
1 tbsp fresh ginger, peeled and finely chopped

Method
1. Bring a large pot of water to a boil. Cook soba そば noodles according to the package (takes around 5 minutes). Drain and rinse with cold water. Transfer them into a large bowl, and place in the fridge to get them extra chilly.

2. Rinse all your veggies. Slice and dice accordingly. Set aside.

3. In a small bowl, prepare the sesame ginger dressing. Combine all dressing ingredients together. Taste and adjust accordingly. You can add more coconut aminos or ginger if necessary. I personally like to add white or black pepper to this dressing.

4. Take the soba そば noodles out of the fridge and add your veggies to the bowl. Garnish with cilantro, watermelon radish, sesame and hemp seeds. Serve immediately or store in the fridge.

太陽の光が暑くなり、日が伸びてきましたね。そんな時期にこの冷やしそばサラダはとても強い夏の味方になるはずです!このレシピの良い所は、コンロの時間を最小限にとどめられるところです。この暑さの中、バーナーの近くに立つのは辛いですよね。ほんの5分間ゆでるだけで出来上がります!レシピには低FODMAPの薄い生姜ゴマドレッシングが含まれており、ヴィーガン、そしてグルテンフリーです。このサラダはとても軽く、歯ごたえがあり、また夏の暑い日中や夜にあなたをクールにしてくれるでしょう。

私のウェブサイトで写真をアップしています!

用意するもの
・オーガニックの十割そば1束
・小さめのキャベツ1玉(緑でも紫でも可)を千切りにします
・中サイズのきゅうり1本を薄切り
・中サイズの人参を1本薄切り
・赤パプリカ半分を薄切り
・パクチー
・海塩と白コショウ(黒コショウでも可)

オプション
・大根(歯ごたえが良くなります)
・ゴマ種子(個人的にとてもお勧めです)
・麻の実

ドレッシング
・ごま油小さじ2(ローストでも可)
・ココナッツアミノ大さじ1(ココナッツの受益に塩を加え発酵したもの)
・チョップしてある生姜大さじ1

作り方
1.大きめのお鍋にお湯を沸かし、おそばをゆでます。(ゆで時間は記載のものを使用)。茹で上がったら水を切り、冷たいお水ですすぎ大きめのボウルに入れて冷蔵庫で更に冷やします。

2.全ての野菜を洗い、切ったらボウルに一つにまとめておきます。

3.小さなボウルにドレッシングを用意します。ドレッシングの材料をすべて混ぜ合わせたら、味見をして調節してください。

4.おそばを冷蔵庫から出し、野菜の入ったボウルに混ぜます。パクチー、大根、ゴマや麻の実を添えたらすぐに召し上がるか、冷蔵庫に入れて保存します。