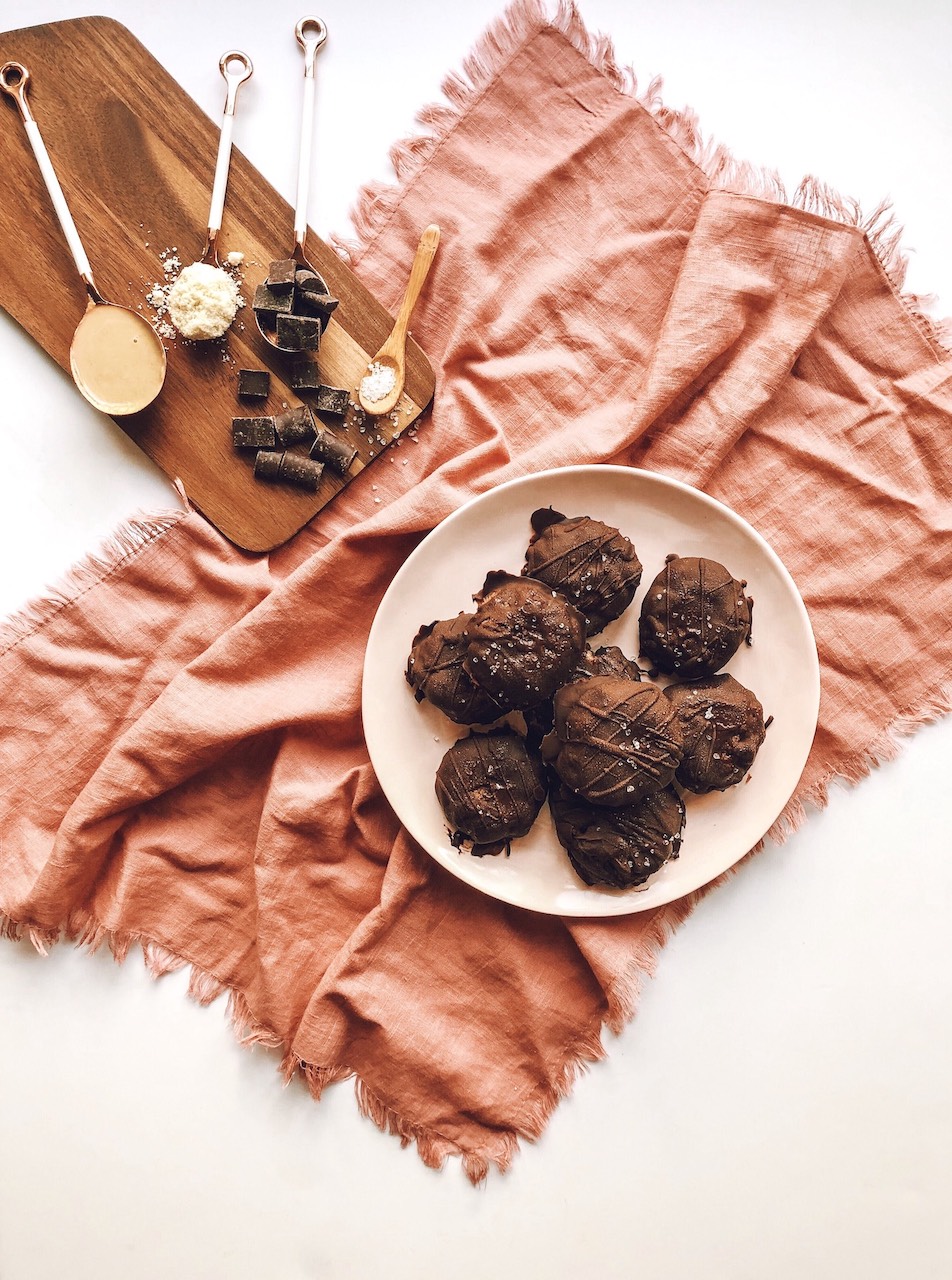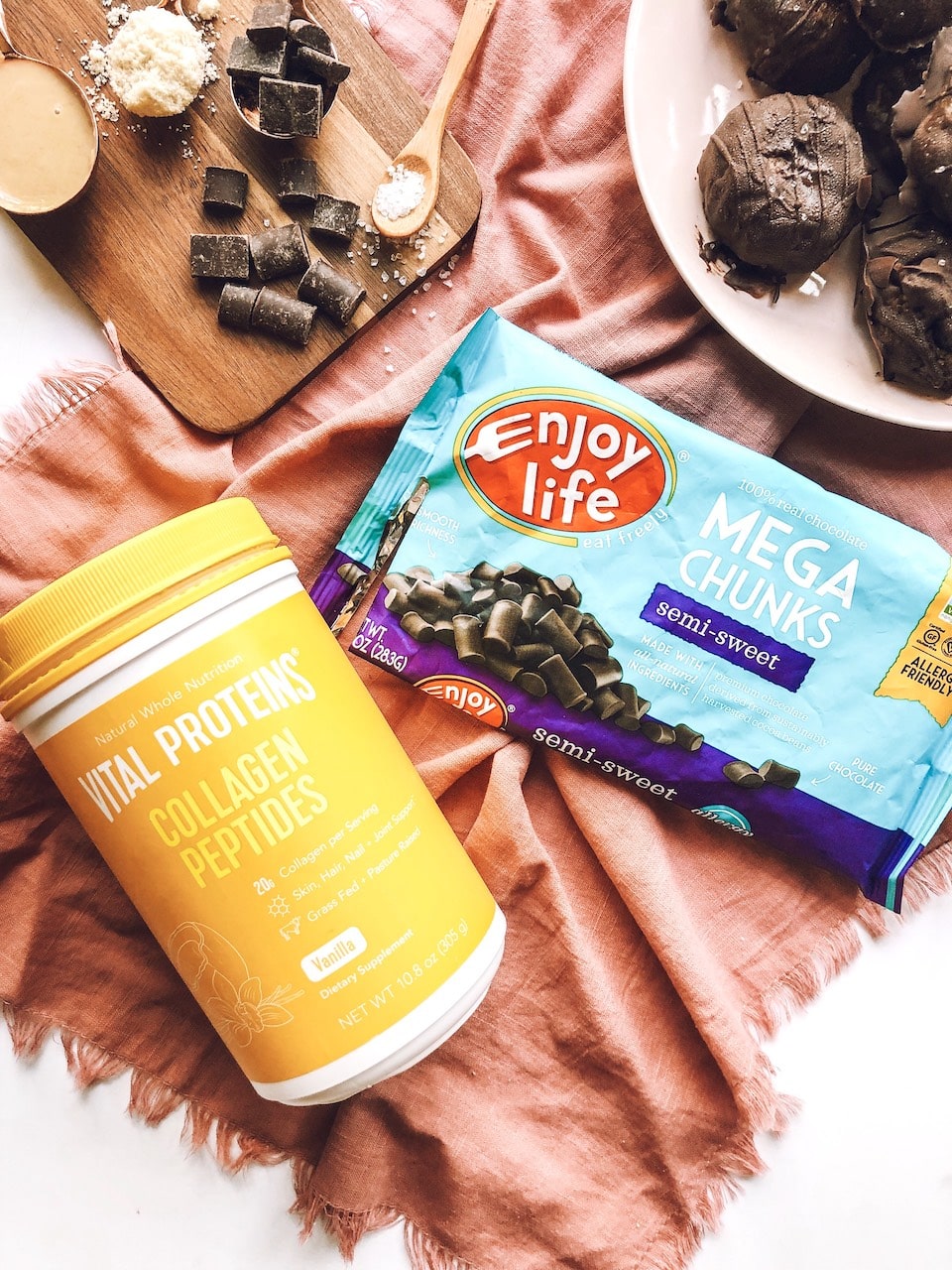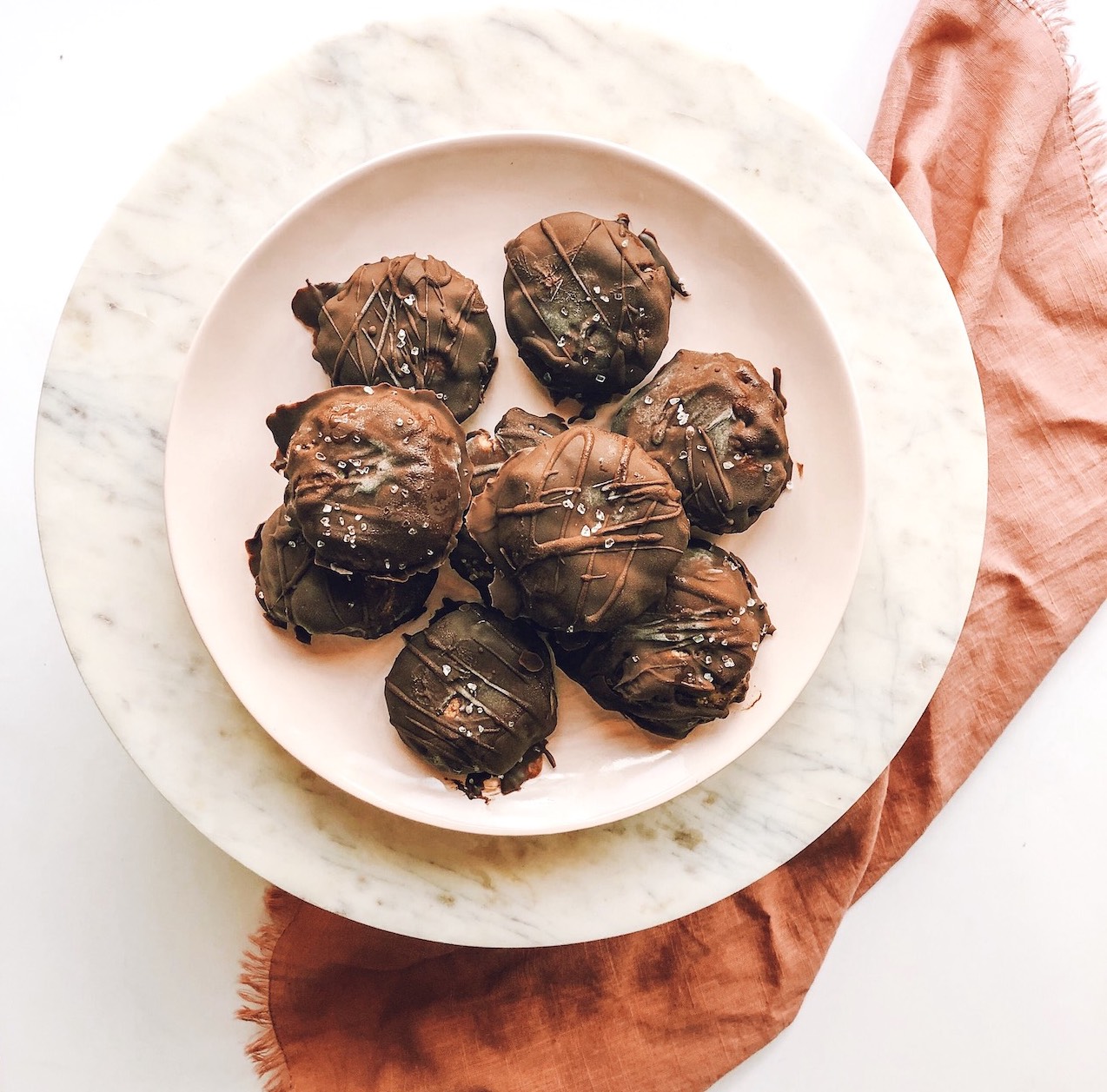 For the last week I've been making different renditions of this recipe and I finally nailed it. Full disclosure, this recipe was inspired and adapted from Nicole Modic aka @kalejunkie. I was craving a good chocolate chip cookie, but then saw Sammy Eason post freezer cookies and got the idea to combine the two. It's been pretty hot here and I had no desire to turn on the oven, so to the freezer I went! These freezer cookies are perfect for any occasion and I promise it'll be a crowd pleaser amongst your friends and family.

I made this recipe using Vital Proteins Vanilla Collagen and prefer it that way. However, I also tested it without collagen because I know it's not for everyone. Below you'll see the note I made for omitting collagen. However I will say this, the vanilla collagen really gives it this shortbread vibe, and I am into it.

See my website here for more photos

INGREDIENTS
FOR THE BATTER
3/4 cup almond flour
3/4 cup tahini
1/4 cup maple syrup
1/4 cup dairy-free dark chocolate, chopped (I use Enjoy Life semi-sweet mega chunks)
1/4 tsp coarse sea salt
1/2 scoop Vital Proteins Vanilla Collagen (or 1 scoop of Vital Proteins Unflavored Collagen Peptides)

FOR THE GLAZE

1/2 cup dairy-free dark chocolate (I use Enjoy Life semi-sweet mega chunks)
1 tbsp coconut oil
1/2 tsp vanilla extract
coarse sea salt for topping

SEE HERE IF OMITTING COLLAGEN

The recipe stays exactly the same minus the vanilla collagen. Please add 1/2 tsp vanilla extract to the cookie batter instead.

METHOD
FOR THE BATTER
1. In a large mixing bowl combine the almond flour, tahini, maple syrup, and coarse sea salt. Stir with a spatula until the contents become a batter.

2. Finely chop your dark chocolate of choice and add it to the batter. Then add in your 1/2 scoop of Vital Proteins Vanilla Collagen and fold all of the ingredients together again with your spatula.

3. Once everything is combined line a baking sheet with parchment paper.
With a spoon, take the batter and form a "cookie" shape with your hands. Make sure they're all around the same size.

4. Place in the freezer for at least 40 minutes. You want them to be pretty solid so they can be dunked into melted chocolate later.

FOR THE GLAZE

1. In a microwavable bowl, place your dark chocolate of choice in with the coconut oil. Microwave in 45 second intervals while stirring each time. It typically takes me around 2 minutes in total. Once it's completely melted, add in your vanilla extract and stir again.

2. Take your cookies out of the freezer. Dunk the cookies in the melted chocolate mixture and make sure they're coated on each side. Set back on the parchment paper and repeat.

3. Once all cookies are coated sprinkle them with coarse sea salt and place back in the freezer for 40 minutes to harden. If you have any remaining melted chocolate, simply re-dunk them or drizzle the chocolate over the cookies with your spoon. Place back in the freezer.

4. Keep these in the freezer until ready to be enjoyed!

やっと完成しました!このレシピは、ニコールモディック(@kalejunkie)からインスピレーションを受け、アレンジしたものです。私は理想のチョコチップクッキーをずっと探していたのですが、Sammy Easonがポストしていた冷凍庫クッキーを見て、2つのアイデアを合体させてみました。こちらはかなり暑かったので、オーブンをオンにしたくなくて冷凍庫を使いたかったのです!この冷凍クッキーはあらゆる機会に最適で、友人や家族の間で喜ばれることをお約束します。
今回はVital Proteins Vanilla Collagenを使用してこのレシピを作成しましたが、とてもお勧めです。バニラコラーゲンはショートブレッドの食感を出すので私は夢中です!また、コラーゲンを使用しない物試しましたが問題ありません。
他の写真は私のブログをご覧ください


材料
<生地>
・アーモンド粉3/4カップ
・タヒニ3/4カップ
・メープルシロップ1/4カップ
・乳製品を含まないダークチョコレート1/4カップを刻んだもの(私はEnjoy Lifeのセミスイートメガチャンクを使用)
・粗塩小さじ1/4杯
・バイタルプロテインバニラコラーゲン1/2スクープ(またはバイタルプロテインフレーバードコラーゲンペプチド1スクープ)


グレーズ(アイシング)用
・乳製品を含まないダークチョコレート1/2カップ(私はEnjoy Lifeのセミスイートメガチャンクを使用)
・ココナッツオイル大さじ1杯
・バニラエッセンス小さじ1/2杯
・トッピング用の粗塩


また、コラーゲンを省略する場合は以下をご覧ください
レシピはバニラコラーゲンを除いたものとまったく同じです。 代わりに、バニラエキスを小さじ1/2杯を生地に追加してください。


<作り方>
生地
1.大きなボウルで、アーモンド粉、タヒニ、メープルシロップ、粗塩を混ぜます。 粘り気が出るまで、へらでかき混ぜます。

2.刻んだダークチョコレートを生地に追加します。 次に、Vital Proteins Vanilla Collagenを加えしっかりと混ぜます。

3.すべてが組み合わされたら、天板にクッキングペーパーをしきましょう。
スプーンで生地を取り、手でクッキーの形を作ります。

4.冷凍庫に少なくとも40分間入れます。

グレーズ(アイシング)

1.電子レンジ用ボウルに、ダークチョコレートとココナッツオイルを入れます。 毎回混ぜながら45秒間隔で温めます。 通常、合計で約2分かかります。 完全に溶けたら、バニラエッセンスを加えてもう一度かき混ぜます。

2.冷凍庫からクッキーを取り出します。 クッキーを、溶かしたチョコレートに浸し、両面がコーティングされているか確認しクッキングペーパーみ載せます。

3.すべてのクッキーにコーティングしたら、粗塩を振りかけ、冷凍庫に40分間入れて固めます。 溶けたチョコレートが残っている場合は、スプーンでクッキーの上にチョコレートをかけて冷凍庫に戻します。

4.しっかり固まったら、食べ時です!