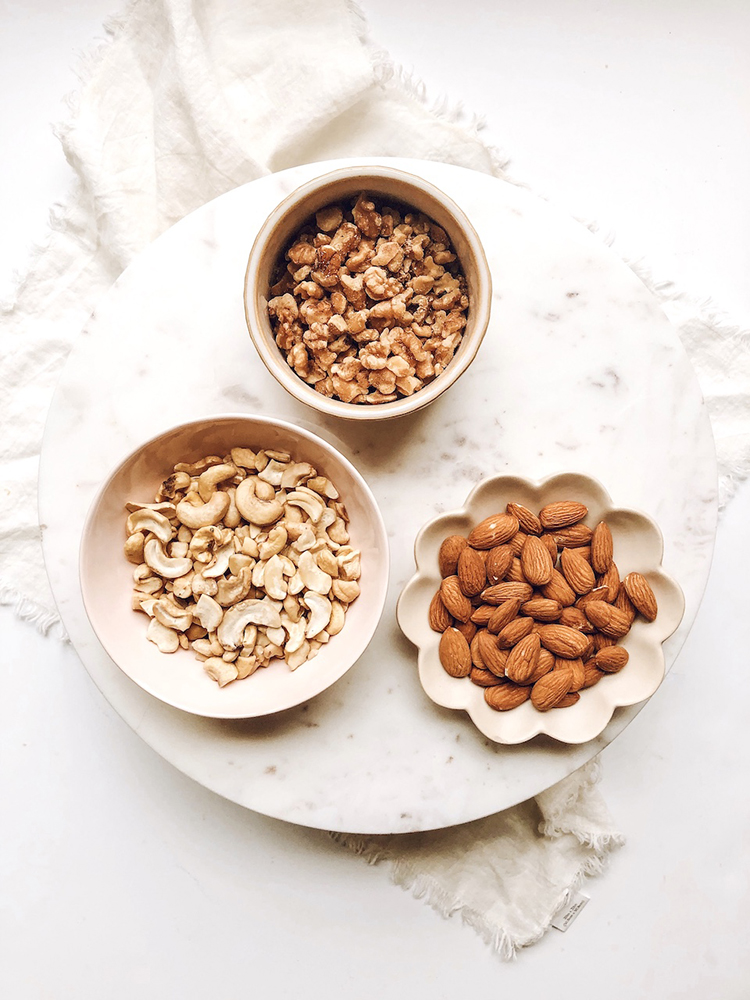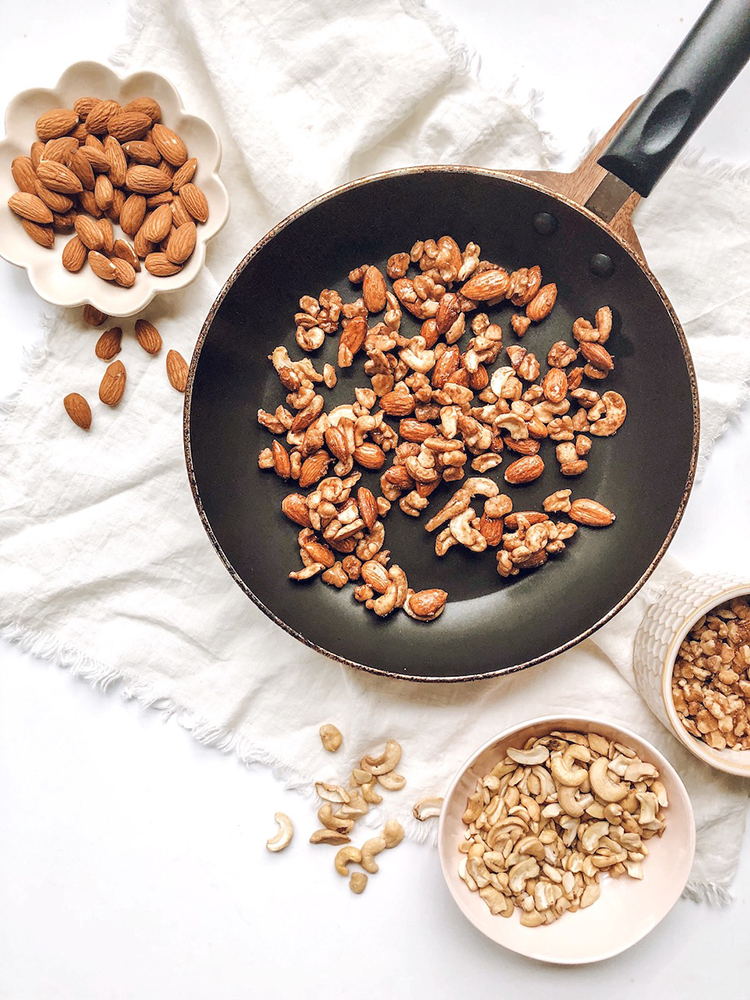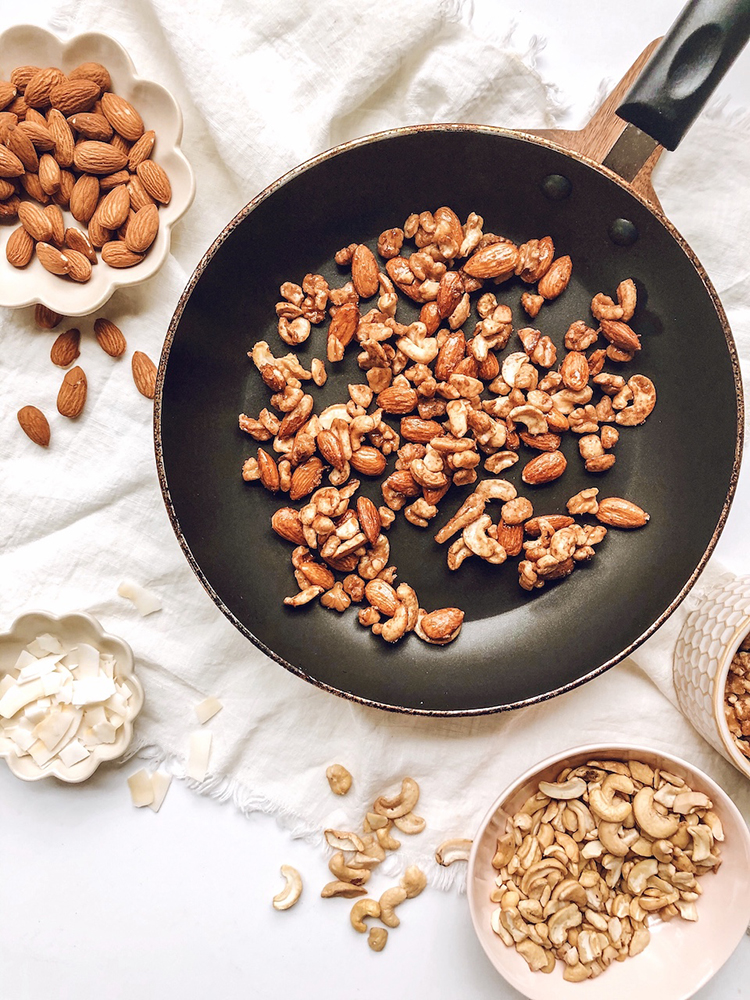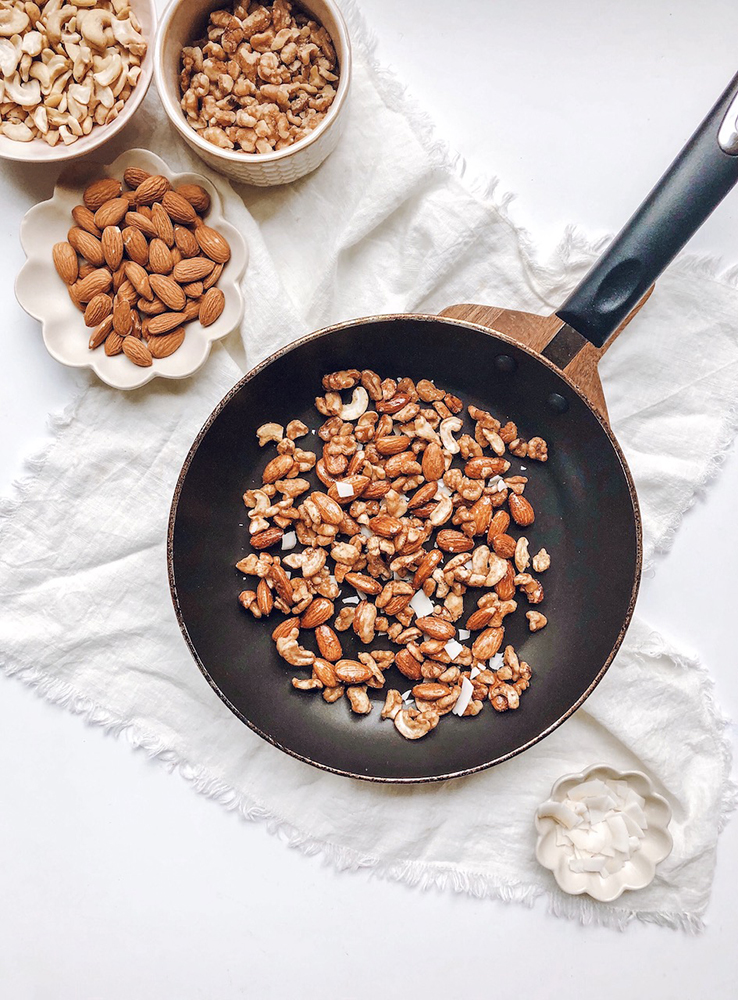 We could all use an easy dessert recipe that requires less than 5 minutes to execute. This my friends is just that. Candied nuts but without a heavy glycemic index that will actually leave you feeling good. All you'll need are various nuts/seeds, maple syrup, and sea salt. You can enjoy these nuts by themselves or add them to any salad or trail mix.


VEGAN, REFINED-SUGAR FREE, GLUTEN FREE FRIENDLY
INGREDIENTS
1 cup of raw, unsalted mixed nuts (I used a mixture of walnuts, cashews and almonds)
1 tsp vanilla extract
2 tbsp pure maple syrup
flakey sea salt (I love using Maldon sea salt)

OPTIONAL TOPPINGS:
dash of cinnamon
coconut chips

METHOD
1. In a non-stick sauté pan toast the nuts over a low heat until they start to brown and smell fragrant.
2. Once toasted, add the maple syrup and vanilla extract. Stir until every nut is coated and the maple syrup is caramelized and fully dissolved.
3. Take off heat, and immediately top with flakey sea salt, cinnamon and coconut chips (optional). Let cool on a plate for 5 minutes until clusters form.
4. Transfer to an airtight container, will last for 5 days.
5分もかからない簡単なデザートレシピを紹介します。私のお気に入りレシピです。必要なのは、たくさんのナッツや種子、メープルシロップ、海塩だけです。これらのナッツを単独で楽しむことも、サラダに追加することもできます。ヴィーガンで、シューガーフリー、グルテンフリーです!


材料
生の無塩混合ナッツ1カップ(私はクルミ、カシューナッツ、アーモンドを使用しました)
バニラエキス 小さじ1
メープルシロップ 大さじ2
シーソルト(マルドンシーソルトが私は好きです)

オプションのトッピング:
シナモンパウダー
ココナッツチップ

方法


1.ナッツの香りが出るまでフライパンで弱火で乾煎りします。

2.乾煎りしたら、メープルシロップとバニラエキスを加えます。すべてのナッツがコーティングされ、メープルシロップがカラメル化し、完全に溶けるまでかき混ぜます。

3.火から下ろし、すぐにフレーク状の海塩、シナモン、ココナッツチップ(オプション)を入れます。固まるまでプレート上で5分間冷まします。

4.密閉容器に移し、5日間持ちます。